Sage Prosthetics in the News
LOS ANGELES, CA – A teen is lending a helping hand by creating prosthetics for those in need.
The hand looks bionic and in many ways, it is. The bone structure is a durable, but lightweight plastic and sinews braided fishing line. The prosthetic hand was built by 17-year-old Karishma Raghuram.
The intricate design means getting the fit just right.
"We can do so many things with such little resources, and it's amazing to see that at such a young age where we're able to contribute in such a major way," says Raghuram...
NEWPORT BEACH, Calif. (KABC) -- Karishma Raghuram, 17, is a senior at Sage Hill School in Newport Beach and a member of the schools' prosthetic club.
She researches, troubleshoots and builds prosthetics for people in need.
The intersection of science and technology with also community service and helping others is just what makes this project unbelievably amazing for everyone involved," Raghuram said.
Since last year, she's already made and sent out three 3-D printed prosthetic limbs to people all over the world. This year, she's building a very special pink and blue arm for a local girl...
USC student Lexi Brooks knows how tough and isolating it can be to look different than everyone else at school.
As a child, she noticed the stares and heard the whispers. Some classmates even teased her — all because she was born without a left hand.
Brooks brushed it off, but she felt alone. She yearned to connect with other kids her age who understood what she was going through. So when the teenager from Newport Beach reached high school, she decided to build a supportive community where children and others like her could come together.
Her idea turned into the nonprofit High Five Project, which has hosted trips to the beach and other fun events for people with limb differences. The response from Orange County families floored her......
Jim Abbott, who overcame being born without a right hand to pitch 10 seasons in Major League Baseball, visited Sage Hill School in Newport Coast on Wednesday to share with students how he learned to make the most of his opportunities.
Abbott, who played for the Angels, New York Yankees, Chicago White Sox and Milwaukee Brewers between 1989 and 1999, was one of three speakers with upper limb deficiencies who told how they conquered hurdles with and without the use of prosthetics.
The other guests were Lauren Scruggs Kennedy, a former model and current fashion blogger who lost her left hand and left eye in 2011 when she walked into a spinning airplane propeller, and Stephen Ley, who was born without four fingers on his left hand and now races and builds mountain bikes for a living.
The event was held with help from Sage Prosthetics, a group of students and faculty that collaborates with Enabling the Future, a web-based international network that provides design sheets and kit materials for 3-D-printed prosthetic hands to volunteer makers and ships their completed products to places where they're needed.
Sage Prosthetics faculty advisor Tanya Lerch said feedback received from the speakers would help shape the group's direction and vision.
Rachel Bryant, 18, who has been involved with the group since it began in fall 2016, said it was inspiring and enlightening to hear how the guests were able to push forward despite their obstacles.
Abbott, who now works as a motivational speaker, praised the group for dedicating time to helping others. He shared how he learned to focus on the talent he was given instead of on his shortcomings.
Abbott credited his hometown of Flint, Mich., for embodying an attitude of seeking solutions and helping others.
His parents would triple-knot his shoe laces because he didn't know how to tie them, Abbott said. But one day his second-grade teacher showed Abbott a method he had brainstormed to help him tie his shoes.
"Think about that generosity to go outside of yourself and think of somebody else," Abbott said. "I was grateful for my hometown because of people who helped me be creative."
Abbott said he didn't want to be known as "the one-handed pitcher" but as a "good pitcher."
Meeting families and their children served as "profound inspiration" for him to make the most of the opportunities in front of him, Abbott said.
"I encourage you to keep opening doors for others and yourself," Abbott said. "Approach life with a passion, with an obligation, with an accountability to make the most with the talent you have. I encourage you to continue opening these doors and helping find solutions to make this world a better place."...
The Sage Center for Innovative Curriculum at Sage Hill School will present a morning of conversation at 10:30 AM on Wednesday, February 14, featuring three inspiring speakers -- Jim Abbott, Lauren Scruggs Kennedy and Stephen Ley. They all live with upper limb deficiencies or deformities and have overcome hurdles with or without the use of prosthetics.
This event was developed in conjunction with Sage Prosthetics, a group of Sage Hill students and faculty who design and create 3D-printed prosthetic hands for those in need. The event will take place in the Black Box Theater in the Studio at Sage Hill and is open to all parents and students who are available during Service Learning Day.
Abbott is a former Major League Baseball pitcher who played despite having been born without a right hand. He played 10 seasons in MLB for teams including the Los Angeles Angels of Anaheim and is currently a motivational speaker.
Scruggs Kennedy is a former model and current fashion journalist and blogger who lost her left hand in a 2011 plane accident. She has since created the LSK Foundation, which exists to bring hope, restore confidence and ignite faith in girls and women with limb loss by providing cosmetic coverings for prostheses.
"Jim and Lauren are such iconic and influential individuals; we are so lucky to meet them in person and be further inspired in our mission to help make prosthetics for those who need them," said Tanya Lerch, math teacher and faculty advisor for Sage Prosthetics. "Hearing about how they have navigated personal challenges and overcome them helps make the impact of living life without a hand more tangible for our students."
Ley is a local resident from Hemet, CA, who races and builds mountain bikes for a living. As a soon-to-be recipient of a 3D-printed prosthetic hand from Sage Prosthetics, Ley was inspired to come to Sage Hill to speak about his experience and give a perspective on what life is like for children in need of a prosthetic.
"The opportunity to meet a recipient from our own community [like Stephen] in person, while we work on building his prosthetic is a rare and exciting occurrence that will help our students enhance their knowledge of the prosthetic's fit and functionality," Lerch said. "I am awed that these generous individuals will be spending time at our school and in our classroom."
Students in Sage Prosthetics are anxiously awaiting the event.
"My experience with the Service Learning project has been rewarding as well as a privilege," junior Lexi Brooks said. "I am excited to share it with Lauren and Jim, who have influenced my life so much."...
A pair of Sage Hill School juniors spent the last month getting hands-on with their latest project, a wireless electric prosthetic hand.
Juniors Karishma Raghuram and Aaron Bergen submitted an entry into the ocMaker Challenge, which will be judged on Friday, May 11 at Chapman University. Math teacher Tanya Lerch is serving as their as faculty advisor.
The ocMaker Challenge is an integrated STEM design project where students are challenged to identify a unique problem, document solutions and present a 3D-printed prototype, according to the ocMaker Challenge website.
The students' objective was to make a real-looking, functioning and affordable wirelessly controlled prosthetic hand that can be re-created by people with more limited time, money and expertise.
"While there are many open-source, 3D printable models available for download and creation, they all require physical power to open and close the palm. Very few patients want noticeably fake prosthetics and even fewer have the dexterity to operate such a device," according to the group's project application. "With our hand design, more people in need of a prosthetic will have access to cheap and affordable models like our own."
Bergen and Raghuram are also members of the Service Learning group, Sage Prosthetics. After each working on two hands for recipients earlier this year, they had some extra time. Lerch told them about the ocMaker Challenge.
The project quickly evolved from its original concept into the electric prosthetic they currently have. Their design allows a person to move their individual fingers in the prosthetic rather than just a single grip that typical prostheses can do. To watch a video of the electric prosthetic and see exactly how it works, please click here.
The students said learning how to develop and build different kinds of prosthetic hands has largely been self-taught and curiosity-based, and they've received a lot of guidance from Lerch.
"Their project has truly exceeded my expectations," Lerch said. "The work they have done is just incredible and has given me the rare opportunity (as a teacher) to work, learn and problem-solve alongside my students, which is invaluable. I think we have a real shot at winning this!"
Raghuram said her interest in prosthetics was sparked by a personal connection.
"My father had an injury which resulted in the amputation of part of his finger. So working on these prosthesis-based projects can really help innovate medicine and modern medicine for the future," she said. "It's been amazing to see that there are solutions that are easy and affordable and plausible for people like us to make who may not necessarily have all the technical background coming into this but are able to learn and really grow."
Bergen is interested in pursuing electrical engineering in the future, but he said he thinks it's great how easy it is for students to create something like this now, just by downloading public source code and buying parts on the Internet.
"I think that we live in a really great time where you're able to do this. You can have very little knowledge of a subject and then just through a few weeks, like we did, accumulate enough knowledge and enough resources to make something like this," Bergen said. "And I think that's great for both us as students that are trying to learn, and for people out there in general that need help like this."
Both Bergen and Raghuram are interested in possibly expanding their work on prostheses, even after the ocMaker Challenge.
"Going forward into the future, we could still continue these projects, improve upon it," Raghuram said. "It's a really amazing foundation to build upon."...
Sage Hill juniors and seniors are creating life-changing prosthetic hands for children during Service Learning this year. In August, Sage Hill received a donated 3D printer kit from Ultimaker, due to Sage Hill mathematics teacher Tanya Lerch's involvement in the company's Educator Pioneer program. The award-winning Sage Hill Robotics Club assembled the 3D printer, which can be seen operating on the lower level of the D. Diane Anderson Family Humanities Building. It has since been working overtime to help develop prosthetic hands.
Through a Service Learning project led by Mrs. Lerch, who initiated a similar effort at a previous school, students are delivering prosthetic hands to children who either cannot afford the medical devices or cannot receive medical-grade prosthetics until they are older and their bodies have finished growing.
Design, Test and Assembly
Between September through January, Sage Hill students created four prosthetic hands for four recipients. All were children who were former recipients of prosthetic hands Lerch's previous students created. These children had outgrown their prosthetics and needed new ones. Lerch and the Sage Hill students reached out to each recipient and offered to make them updated prosthetics.
Sage Hill students modified the designs to accommodate each individual. For example, one prosthetic leaves an opening for a thumb hole for one child who has a thumb, but no palm or fingers. Three of the prosthetics were wrist-powered, but one recipient had an amputation above the wrist so she needed a special arm design which closed and opened via flexion of her elbow. The team also took into account requests for style and color preferences, such as creating prosthetics based on various super heroes like Spiderman and Superman.
Once the files for the prosthetics were scaled and designed, the Sage Hill students helped perform the printing on the School's 3D printer (a process which involved a lot of problem-solving and troubleshooting). The students then assembled and tested everything during the January 11 Service Learning day. Throughout the process, the groups maintained constant communication with the recipients' families to inform them on the progress.
The project will continue through the year, according to Lerch. The group received a new recipient recently, a child from Brazil, and the team expects to have another recipient later this week. The team will also work on some "hacked" designs and demo hands for display and use at the New York Science fair.
Moving Forward, More 3D Printers Needed!
"We hope to get another printer next year for this project's use. Just having the one built by the students was difficult as the parts take a long time to print, and can often fail or need to be re-printed," said Lerch. "We would love to continue the project. I want some of the juniors who are here next year to work on expanding and advancing our project to perhaps modify and make the designs better." The team has also paired with another group that performs similar projects for animal prosthetics and are anxiously awaiting an animal that needs a prosthetic so the team can begin building one....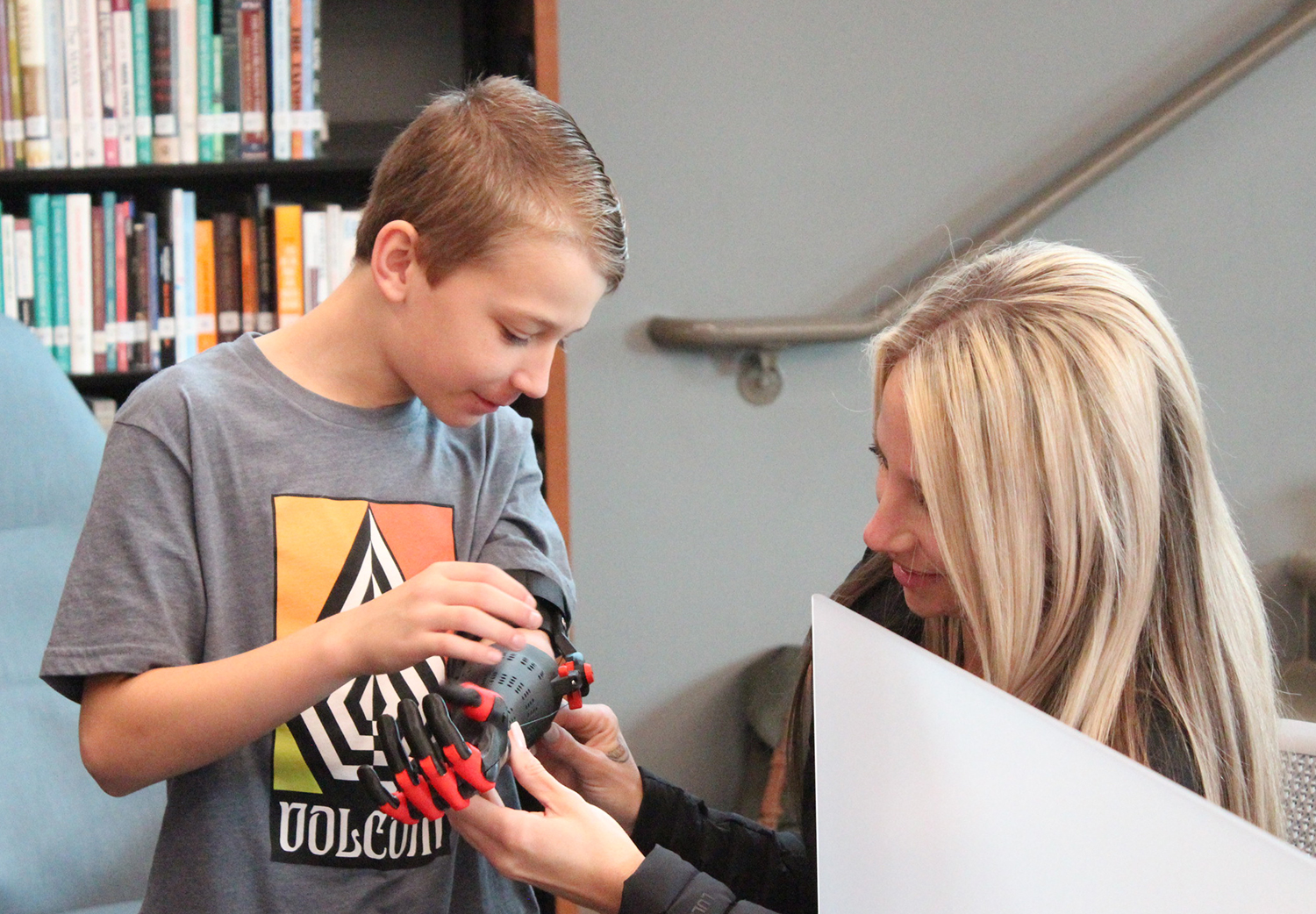 Two years ago, junior high school student Serena Chao saw a young girl receive a prosthetic hand for the very first time. When she saw the little girl beaming from ear-to-ear in excitement, Chao knew she wanted to be a part of whatever was helping this child's dreams come true.
Chao found out the prosthetics were made possible through an elective at her school, Sage Hill School in Newport Beach. The class, titled 3D Design, Modeling and Fabrication, allows students to print and design custom prosthetic hands for real-life recipients from all across the world.
When Chao was finally eligible to take the class her junior year, she was ecstatic to help brighten the lives of others in her community and elsewhere.
"I think (my favorite part is) just knowing that it's making these little kids happy is so rewarding," Chao said......
While the rest of Sage Hill students rush down the steps from the parking lot for their 8 a.m. classes, a dedicated group of students known as the Sage Prosthetics is just leaving the library after their zero period elective, 3D Design, Modeling and Fabrication.
These students are part of both the class taught by Tanya Lerch, science teacher and assistant director of the Sage Center for service learning and outreach, and the Sage Prosthetics Service Learning Group. Together, they use their morning class time and Sage Center Days to design 3D printed prosthetic limbs for children and adults all over the world with disabilities.
The service learning group partners with the nonprofit, e-NABLE, which is made up of 40,000 volunteers internationally that have provided over 10,000 recipients with free hand and arm prosthetic limbs. Lerch brought e-NABLE to Sage Hill School in 2016 by launching Sage Prosthetics. The group has already helped over 50 recipients with their prosthetics, shipping plastic hands internationally to Pakistan and Romania and domestically to Idaho, Massachusetts, and Florida.
"Making the prosthetics requires a lot of trial and error," Senior Lio Balossi said about using the 3D printers. His favorite part is "seeing the positive impact of our work on the recipients."
Similarly, senior Annie Ta said........
In this episode, we dive into the world of Sage Prosthetics and their incredible service learning program. Tanya, the founder of the program, shares her experience working with the Enable Organization and how it led to the creation of a chapter at Sage hill. The program has now evolved into a full-blown course where students learn to use 3D printers and design software to create customized prosthetics for people in need - all for free! We hear from the students who joined the Prosthetics team with no prior experience in 3D printing and learn about the projects they've worked on. Join us as we explore the impact of this service learning project on the students and the community....